Library Management System
MRP- 75,000 INR
A unique State of Art is developed which will help Librarian to keep complete track of Books, Periodicals, Journals, Book Bank etc.
System is capable of maintaining Multiple registers like for Junior, Senior, University, UGC, etc. Maintain Book Bank, Periodicals, Journals, CD's, Videos, Tapes etc.
Library Management System is divided into different modules so that you can choose as per your requirement, number of books and volume of work. You can add modules as and when required.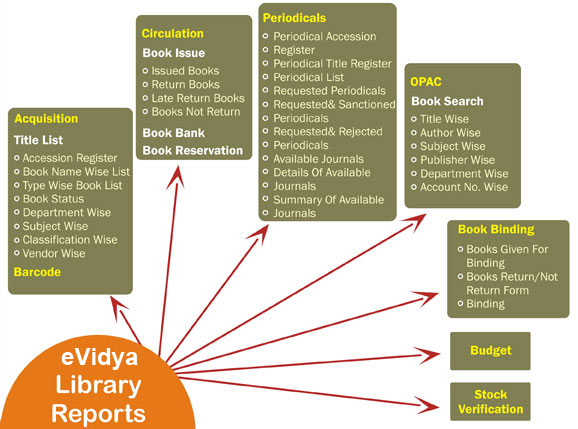 Why Biyani Technologies - ACE Library System?
ACE Library:
Is build after exhaustive study, discussion and feedback received from many experienced librarians from reputed institutes.
ACE Library:
Is been developed to include best features of all existing Library Management Software and overcome their drawbacks as reported from users of these existing systems.
ACE Library:
Has taken special care for making it user friendly, convenience to use, very easy to learn.
ACE Library:
Single click menus/icons for important and day to day activities like: Issue, Receipt, Accession Register, Data Entry, Due List, Fine Collection etc.
ACE Library:
Is integrated with all modern functionalities and accessories like Bar Code, RFID tags etc.
ACE Library:
Has unique facility for automatic importing/migration of your existing data in this system.
ACE Library:
Is ideal not only for traditional printed books but ideal for handling today's digital media like: CD's. DVD's, Audio Cassette, Video Tapes etc.
ACE Library:
Multi User, Multi System, Multi Lingual and Online Access Feature.
ACE Library:
IS THE SOFTWARE WHICH EVERY LIBRARIAN & PRINCIPAL HAS THOUGHT ABOUT. It is his own software, build by his own people, using his own suggestions and feedbacks.
In today's fast advancing world, the most difficult decision every Librarian and Principal has to take: Is to select and recommend best Library Management System. Some of the common worries before selecting the Library Management System are :ACE Library:
Does the software cover all the requirements of our Library, integrate with latest accessories like Bar Code, RFID tags ?
Will it be suitable for today's eMedia and Digital copies ?
We have waited for long. Really if this software is the best ?
What about all those data that has been already been fed into the system ?
Will the company provide quality services and update the software time to time to suite our requirements ?
Is any other college or school using this software and what is their feedback ?
Existing users: Confusion whether to stay and unwillingly continue with their existing system which does not cover all requirements ?
Is it expensive or fit into our budget?